For Walnut Crumble you need:
1/2 c. walnuts
1/4 c. almonds
2 dates, seeded
2 pinches of salt
For Pudding you need:
1 c. strawberries (frozen or fresh)
seeds from 1/2 vanilla bean, or 1/2 t. vanilla extract
1/4 c. kefir, yogurt, coconut water or another liquid
1/2 c. cashews, preferably soaked
1 young coconut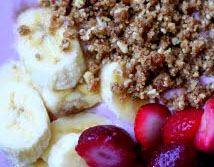 1 ripe banana
juice of 1/2 lemon
slices strawberries and bananas, to garnish
Preparation
Open the coconut and remove the meat. Reserve the water for another use, or use it for the liquid in place of kefir or yogurt.
Put the cashews in a blender. Top with the coconut meat, fruit, lemon juice, vanilla seeds and kefir.
Process at a low speed until the cashews are broken apart, then increase the speed to blend the pudding very smoothly.
In a food processor, combine the nuts, dates and salt and process until beginning to come together in sticky crumbles.
Distribute the pudding into bowls and top with crumbled nuts and sliced fruit.
Enjoy 😀