For Butternut Squash Pasta you need:

1 peeled butternut squash
Truffle oil
Olive oil1 tsp + sea salt
Dried Italian mixed herbs
basil for garnish
Black pepper
For Caesar Salad you need:

1 head of romaine lettuce
For Dressing you need:
1/2 C soaked sunflower seeds
2 T raw tahini
3 T lemon juice
1 T olive oil
1 clove garlic
1 tsp miso
1/2 tsp sea salt
1/2 tsp kelp powder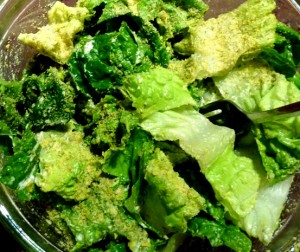 1/2 tsp black peppercorns
1 tsp maple syrup
1/2 C filtered water
For Parmesan you need:

1/4 C pumpkin seeds
1/4 C nutritional yeast
dash or two of sea salt
Preparation
For Pasta
Using a mandoline slicer, thinly shave squash.
Stack shaved slices and cut linguine sized strips.
In a large bowl combine noodles and sea salt.
Be generous with sea salt, as you will be rinsing most off.
Vigorously massage noodles and salt, let sit for about 30 minutes.
Once noodles have softened, rinse noodles in a colander (squeeze out excess liquid).
In a large bowl toss softened noodles, equal parts truffle oil and olive oil, Italian herbs, and a dash of sea salt.
Garnish with basil and fresh ground pepper.
Dressing
In a high-speed blender, blend all ingredients until smooth.
Parmesan
Process all ingredients in a food processor.
Lettuce
Wash and chop, in a large mixing bowl, dress lettuce with a few spoonfuls of dressing and toss well.
Sprinkle Parmesan on top (store leftover parm in a glass container).
Enjoy :D!