Did you know that in one 200g portion of butternut squash, you get more than 450% of the recommended daily intake of Vitamin A in the form of Beta-carotene.
You need:
1 or 2 butternut squashes (1 is good for about 3 good portions)
1 or 2 cans of coconut milk, depending on the number of squashes you prepare.
(you'll find it in most grocery stores and at your health food store,
look for organic without any other ingredient except maybe guar gum)
Sea salt and freshly ground black pepper to taste
Any fresh out dried herb you've got laying around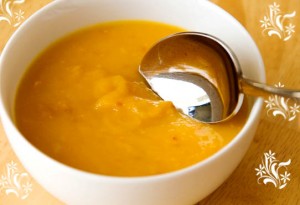 Preparation
Preheat your oven to 350 F.
Cut your squash lengthwise and remove the seeds. You can get rid of the seeds or keep them and roast them for a snack latter.
Place the halves, cut side down, on a baking sheet and place in the oven for about 45 minutes. It might take longer, but I suggest you check on them after 45 minutes. Verify that the flesh is fork tender and it's ready.
Now either wait for the squash to cool down a bit so it's easier to handle or put on some gloves. Scoop out the cooked flesh in a sauce pan and add about 3/4 of a can of coconut milk per squash.
Start mashing the squash with a potato masher on a low heat. Note that you can also place the flesh and coconut milk in a blender and blend the mixture. I prefer the version in the pan, less work than washing a blender.
Once everything is mashed up, adjust the consistency by adding some coconut milk if needed. Season with salt and pepper to taste. If you want to go fancy, grate a bit of fresh nutmeg . You can also add some grated fresh ginger or garlic for a nice spin on the taste.
Garnish with fresh herbs on top if you have any. For added style, you can drizzle additional coconut milk in a spiral on the served bowls to create a white swirl.
Serve and enjoy :D!