You need:
8-10 cups of Kale
1-1.5 tbsp. Chickpea Miso
1 Lemon, Deseeded, Juiced
1/5 tbsp. Nutritional Yeast
2 tbsp. Hemp Seeds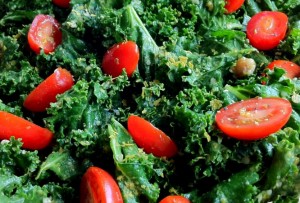 1/8 tsp. Black Pepper
1 cup Cherry Tomatoes
Preparation
Chop and de-stem your kale and place it in a large bowl.
Massage in your miso and lemon juice, make sure you really give it some love with your hands to soften it up and spread the mixture evenly through out the whole salad.
Sprinkle on your nutritional yeast, black pepper and garnish with slices of fresh, juicy cherry tomatoes.
Enjoy :D!