You need:
8 Pieces of Romaine Lettuce
1/2 – 1Cup Cherry Tomatoes sliced in halves
1/2 Cup Pea or Sunflower Sprouts
1 Avocado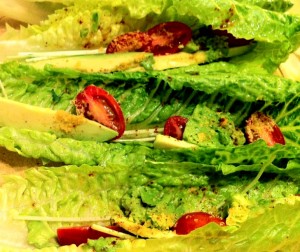 1 Tbsp Nutritional Yeast
1/4 tsp. Chipotle Seasoning
1/2 Lime, Juiced
Preparation
Wash all of your veggies.
Tear your romaine lettuce from the head and place the leaves on their back so you can fill them up.
Place your sprouts in first, then place your cherry tomatoes on top, slice 1 avocado in very small slices and spoon out gently so you don't turn it into mush.
Take the slices and portion out across all of the tacos. Sprinkle on your nutritional yeast and chipotle, then squeeze your lime on the top of each taco and enjoy :D!