For all those who hate searching the produce bins at the grocery store for the best piece of fruit or vegetable, probably would prefer to buy it directly from the farms. This can be difficult for those who cant make it to the closest farmers market when they are open. There are places in the area that are community supported agriculture centers. These places have a weekly subscription with a local farmer during growing seasons. You can sign up for a membership yourself or go through organizations that support this and deliver the food to you. This is a great way to support our community and ensure our families are eating fresh and organic. Here are the local Maricopa County CSA's :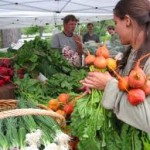 Whole Earth CSA
Local Harvest CSA Info for the Whole Earth Farm
Whole Earth CSA is a collaboration of three local growers cultivating both a farm and a garden in the West Valley of Phoenix, AZ. Our weekly all naturally grown vegetable deliveries serve the otherwise relatively isolated frontiers of the West Valley all the way to Downtown Phoenix.
Maya's Farm (Maya Dailey)
Local Harvest CSA Info for Maya's Farm
Pick-up locations: The Farm at Sth Mtn, 6106 S 32nd St Phoenix 85042 or the Phoenix Downtown Farmer's Market
Desert Roots Farm, Queen Creek
http://www.desertrootsfarm.com/
Partnering with Crooked Sky Farms, they offer a diverse selection of veggies, fruits and herbs year round. You can purchase whole or half shares by the season (summer, fall, winter, spring).
Pick-up locations around the Maricopa County (see their web site for details) as well as home delivery to Scottsdale, Cave Creek, Carefree, and Tempe for an extra fee.
Crooked Sky Farms (Frank the Farmer), Glendale
http://www.crookedskyfarms.com
Crooked Sky Farms maintains several farm plots around the Phoenix area, strategically located to provide a variety of growing conditions. He has lots of native and heirloom crops.
Pick-up locations: Art Institute of Phoenix, Avondale, and Tempe
Love Grows Farms
http://www.lovegrowsfarms.com
Naturally grown produce favored by many of the area's chef's. Pick-up locations at the farm in Mesa and in north Phoenix at the Road Runner Park Farmer's Market.
Tonopah Rob's Vegetable Farm Shares are packed Saturday mornings, using fresh fruits and vegetables that have been harvested only days prior. Some subscribers organize weekly rotations where a designated person drives out to the farm to collect several members' shares and then delivers them within that particular community. email [email protected] for further details or to sign up.