So you think garlic gives you nothing but bad breath? Well, OK, it does, but it's also one of the healthiest foods you can eat. For centuries, garlic has been considered a "cure-all" and is said to be able to treat just about every ailment from the cold to the Plague.
Benefits of Eating Garlic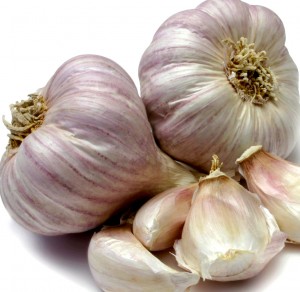 Most people at some point in their lives suffer from acne to some degree. Companies make a fortune selling facial washes and creams to help. The problem is that there are many reasons for acne including hormones, diet and stress. Although garlic on its own is unlikely to cure acne, it can certainly be used in conjunction with other treatments.
Cholesterol can be a confusing area of health. On one hand it is essential whilst on the other hand it can kill us. This is because there are two types of Cholesterol – HDL and LDL. The latter type is considered bad. Modern medicine has found that garlic contains allicin which scavenges hydroxyl radicals (OH). This is turn is thought to prevent LDLs from being oxidised.
Allicin naturally increases antioxidant enzymes atalase and glutathione peroxidase in your blood. It can help against the damaging effects of nicotine and slows the aging process of your liver by inhibiting lipid per oxidation.
Garlic has 1% of the potency of penicillin and can ward off a number of bacteria such as Listeria, Salmonella, E. coli, Cryptococcal meningitis, Candida albican and Staphylococcus. The problem with most antibiotics is that bacteria develops resistance to them, however this is not the case with garlic.
Clinical trials, which were published in the Journal of Hypertension, showed that the blood pressure of volunteers was reduced 1 – 5% after taking garlic supplements. This may not sound a lot but this small reduction can reduce the chance of a stroke by 30-40% and heart disease by 20-25%.
Garlic is known to have antiviral properties, which helps the body fight against allergies. Simply take one tablet of garlic supplement each day 2 or 3 weeks before the usual allergy season begins.
Garlic's antibacterial properties make it a wonderful treatment for coughs and other throat irritations. Garlic may also reduce the severity of upper respiratory tract infections.
Garlic is considered to regulate blood sugar levels by increasing the release of insulin in diabetics. Therefore an effective remedy is to take one capsule or tablet of garlic everyday.
Clinical studies have shown that people with high blood pressure who took garlic capsules daily for up to five months lowered their blood pressure levels as effectively as patients taking prescription blood pressure drugs. A suggested dosage is 600-900mg garlic capsules once daily.
Studies have shown that taking 600-900mg of garlic everyday lowers cholesterol levels and reduces arterial plaque formation by 5–18%. Therefore, an effective natural remedy is to take one garlic tablet or capsule (600-900mg) once per day.
Garlic's antibacterial, analgesic, and anesthetizing properties can help cure toothaches. Simply put some garlic oil or a piece of crushed garlic clove directly onto the affected tooth and the gum for instant relief.
Garlic's ability to fight infections and bacteria makes it an effective cure for warts and other skin problems. Take a fresh clove of garlic and cut its tip off. Rub the cut area of the clove directly onto the wart for a few seconds.
Repeat this each night before going to bed until the wart disappears.