1 pound 80/20 ground chuck
1/2 pound ground pork
1 cup dried bread crumbs
1 cup finely chopped onions
1 16 ounce can tomato sauce
3 Tbls apple cidar vinegar
3 Tbls brown sugar
2 Tbls yellow mustard
1 Tbls worcestershire sauce
1 tsp salt
1 tsp black pepper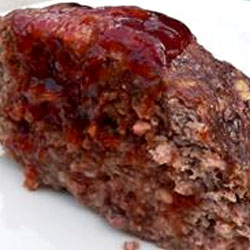 Preparation
Set grill to low indirect heat, 250 to 275 degrees F.
Mix all ingredients in bowl. Avoid over-mixing.
On a baking sheet, shape into a loaf. Can be placed, wrapped in plastic wrap in the refrigerator to rest or can be placed on grill over indirect heat.
Grill for 3 hours or until center temperature is at least 165 degrees.
Remove from grill and let rest for 5 to 10 minutes.