Some of the benefits of buying your fishes whole is that they will be cheaper, fresher and easier to get wild caught.
Two 3/4 lb whole trouts(scaled, guttered and cleaned)
(don't stress about the size, medium is a good gage)
Butter or coconut oil
1 bunch fresh flat leaves parsley
1 bunch fresh dill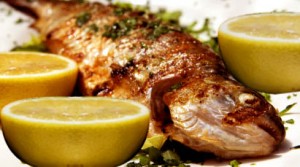 Zest of one lemon
2 lemons, one sliced and the other halved
Salt and pepper to taste
Preparation
Preheat your broiler.
Slash the sides of your fishes about 8 times each side with a knife so the butter or oil can make its way in.
Rub the trouts with butter and season with salt and pepper.
Stuff the cavity with the chopped parsley, dill and lemon slices.
Put the fish on a baking rack on a pan for the dripping.
Sprinkle the lemon zest on top of the fish and add generous knobs of butter on the fish to form a wonderful golden crust.
You can place the lemon halves on the baking tray too.
Grill at about 6 inches of the heat source for about 6 minutes on each side.
Squeeze the roasted lemons on the fish before serving and you've got yourself a wonderful dinner.
Enjoy :D!