20 asparagus spears
4 (6-ounce) wild salmon fillets
1/2 cup olive oil
1/2 teaspoon salt
1/2 teaspoon pepper
1/2 pound baby salad greens
1 cup kalamata olives, sliced in half
2 oranges, peeled and segmented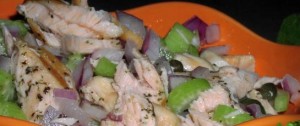 1 small red onion, thinly sliced
Preparation
Preheat grill. Place a medium pot of water on the stove to boil. While the grill heats and the water comes to a boil, prepare the Orange Vinaigrette, and set aside until needed.
Trim the bottoms of the asparagus and cook for 30 seconds in the boiling water. Remove from the pot to a plate.
Place the salmon fillets on a large plate and coat with 1/4 cup olive oil, 1/4 teaspoon salt, and 1/4 teaspoon pepper. Put the salmon fillets on the hottest part of the grill, starting with the skinless side down. Grill for about 5 to 10 minutes on each side, or until desired doneness.
While the salmon is grilling, combine the salad greens, olives, oranges, onions, and half of the vinaigrette in a large bowl. Toss to combine. Divide the salad mixture evenly among 4 plates.
When the salmon is nearly done, coat the asparagus with the remaining olive oil, salt, and pepper. Put the asparagus on the grill. Grill lightly, moving the spears around the heat frequently with tongs, for about 3 minutes.
Remove the salmon and asparagus from the grill and distribute them evenly among the 4 plates on top of the greens mixture. Drizzle the remaining dressing over the salmon and serve.