For Holiday Medley you need;
1/3 cup olive oil
2 cloves garlic, minced
¼ cup diced sweet onion
4 teaspoons all purpose seasoning (salt free, my fave is Bragg's Sprinkle)
½ teaspoon salt
black pepper to taste
1 cup Brazil Nuts or walnuts
1 cup diced celery (about 2 large stalks)1 cup diced carrots (about 2 medium carrots)
¾ cup chopped parsley (about 1/2 bunch)
8-10 small lacinato kale leaves + 2 pinches of salt
For Sweet Potato Mash you need;
1 cup chopped carrots
¾ cup water
½ cup cashew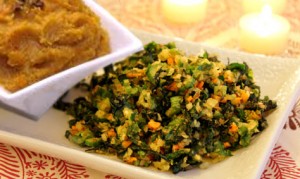 1 tablespoon coconut oil
½ teaspoon cumin½ teaspoon salt
1½ cup peeled & chopped sweet potato
1 cup chopped carrots
Preparation
Holiday Medley:
In a large bowl, whisk together the olive oil, garlic, onion, seasoning, salt and pepper.
Place the Brazil nuts in the food processor and process until finely ground.
Scrape into the bowl with oil and spices.
Add celery, carrots and parsley to the mixture.
Chop the kale into thin ribbons. In a separate bowl, toss the kale with a few pinches of salt.
Massage the kale with your hands until it wilts. Ass the kales to the rest of the mixture and mix very well.
If you would like, divide the medley over 2 teflex lined dehydrator trays and warm at 115 degrees for 2 hours.
Sweet Potato Mash:
In a high speed blender, combine the water, cashews, coconut oil, cumin and salt.
Blend until very smooth.
Add the sweet potato and carrot and blend again until very smooth, creamy & warm.
Enjoy :D!