You need:
3 tablespoons raw sesame tahini
1 tablespoon raw honey
1 tablespoon poppy seeds, or more to taste
Juice of 1/2 lime
1 ripe lemon plum – pitted
4 tablespoons fresh coconut water or purified water
sea salt to taste
1 tablespoon macadamia nut oil (optional)
Candied Walnuts
2 cups walnuts – soaked for 1 hour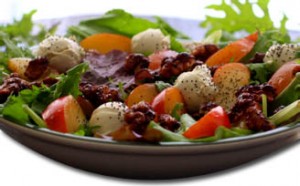 1/4 cup maple syrup powder
1/4 cup raw honey or agave syrup
1/2 teaspoon ground cinnamon
1 teaspoon sea salt
Preparation
Blend all the ingredients with the exception of macadamia nut oil in a high-speed blender. Add the oil in at the end of the process, with the blender still running. Store in the refrigerator until needed.
Toss all the ingredients in a bowl. Spread on Teflex-lined dehydrator trays and dehydrate at 115F for about 12 hours or until crisp.
Arrange fresh salad greens on a plate, followed by slices of ripe lemon plums and a couple of scoops of cashew cheese (optional). Top with the dressing and candied walnuts, sprinkle with poppy seeds.
Enjoy :D!