You need:
Dash of pepper
1/4 cup pure maple syrup
1 – 1 1/2 pounds of your favorite grilled salmon cut into 1-inch chunks
3 cups hot cooked rice
(1 cup dry before cooking)
1 pound broccoli florets
(2-3 heads, trimmed)
1 large or 2 medium red onions,
cut into wedges or thick half-slices
1/4 cup oil
3/4 teaspoon salt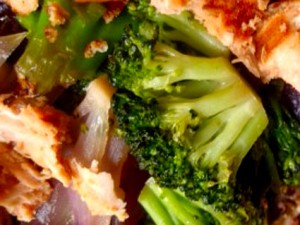 Preparation
Heat a heavy skillet (such as cast iron) or non-stick skillet over medium heat until hot.
Add oil, and then toss in the broccoli florets and onion wedges.
Stir and cook for a few minutes, until broccoli is crisp-tender and onions are turning translucent.
Sprinkle salt and pepper and stir.
If using leftover (cold) salmon, add to fried mixture, reduce heat to low or warm, and cover with a lid for a few minutes until hot.
If using freshly-grilled or baked salmon (still warm or hot), add to fried mixture and stir gently.
Stir in maple syrup.
Serve salmon and broccoli over the hot cooked rice.