1 lb small red potatoes
1 lb asparagus, trimmed and cut into 1 inch pieces
1/4 cup dark brown sugar
3 tablespoons cider vinegar
3 tablespoons fresh lemon juice
3 tablespoons fresh lime juice
2 tablespoons Dijon mustard
2 cloves garlic, chopped
salt and pepper
1 1/2 lbs wild salmon fillets, cut into 6 portions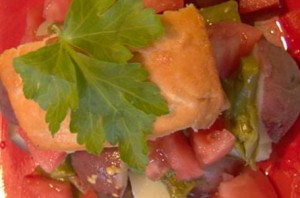 1 tablespoon olive oil
1 cup cherry tomatoes, halved
1 lemon, cut into 6 wedges (optional)
Preparation
preheat oven to 450. or heat a gas grill
on stovetop place potatoes in a large pot, cover with cold water.
bring to a boil, lower heat and simmer for 20 minutes.
add asparagus and cook 3-4 minutes more.
drain, cut potatoes in quarters, set aside in a large bowl.
meanwhile, in a small bowl whisk together sugar, vinegar, lemon juice, lime juice, dijon mustard, salt and pepper.
place salmon in a glass baking dish.
separate 1/4 c of the marinade mixture, brush over salmon, let salmon sit for 10 minutes.
bake in oven for 15-18 minutes until fish flakes easily., or cook in covered grill at medium heat.
whisk olive oil into remaining marinade.
11pour over asparagus and potatoes.
add cherry tomatoes, toss.
divide onto 6 plates, top with salmon.
garnish with lemon wedges, if desired.