Okra, also known as "lady finger" or "gumbo", is a highly nutritious green edible pod vegetable.   Botanically, this perennial flowering plant belongs to the mallow family and named scientifically as Abelmoschus esculentus.
Very low in calories, provides just 30 cal per 100 g and contains no saturated fats or cholesterol; but is a rich source of dietary fiber, minerals, vitamins; recommended in cholesterol controlling and weight reduction programs.
The rich fiber and mucilaginous content in Okra pods helps smooth peristalsis of digested food particles and relieve constipation condition.
Benefits of Eating Okra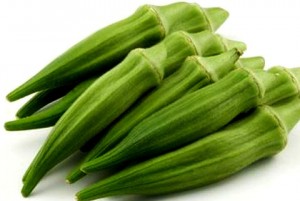 The pods contain healthy amounts of vitamin A, and flavonoid anti-oxidants such as beta carotenes, xanthin and lutein. It is one of the green vegetable with highest levels of these anti-oxidants. These compounds are known to have antioxidant properties and are essential for vision. Vitamin A is also required for maintaining healthy mucus membranes and skin. Consumption of natural vegetables and fruits rich in flavonoids helps to protect from lung and oral cavity cancers.
Fresh pods are good source of folates; provide about 22% of RDA per 100 g. Consumption of foods rich in folates, especially during pre-conception period helps decrease the incidence of neural tube defects in the offspring.
The pods are also an excellent source of anti-oxidant vitamin, vitamin-C; provides about 36% of daily recommended levels. Consumption of foods rich in vitamin-C helps body develop immunity against infectious agents, reduce episodes of cold and cough and protects body from harmful free radicals.
The veggies are rich in B-complex group of vitamins like niacin, vitamin B-6 (pyridoxine), thiamin and pantothenic acid. The pods also contain good amounts of vitamin K.  Vitamin K is a co-factor for blood clotting enzymes and is required for strengthening of bones.
The pods are also good source of many important minerals such as iron, calcium, manganese and magnesium.
Helps lubricate the large intestines due to its bulk laxative qualities. The okra fiber absorbs water and ensures bulk in stools. This helps prevent and improve constipation. Unlike harsh wheat bran, which can irritate or injure the intestinal tract, okra's mucilage soothes, and okra facilitates elimination more comfortably by its slippery characteristic. Okra binds excess cholesterol and toxins (in bile acids). These, if not evacuated, will cause numerous health problems. Okra also assures easy passage out of waste from the body. Okra is completely non-toxic, non-habit forming, has no adverse side effects, is full of nutrients, and is economically within reach of most individuals unlike over-the-counter drugs.
Okra fiber is excellent for feeding the good bacteria (probiotics). This contributes to the health of the intestinal tract.
Okra is a supreme vegetable for those feeling weak, exhausted, and suffering from depression.
Okra is used for healing ulcers and to keep joints limber. It helps to neutralize acids, being very alkaline, and provides a temporary protective coating for the digestive tract.
Okra is good for summer heat treatment, preventing diabetes, constipation,  normalizing the blood sugar and cholesterol level, asthma and atherosclerosis.  Protect some forms of cancer expansion, especially colorectal cancer. Eating okra helps to support the structure of capillaries. Some information shows that eating okra lowers the risk of cataracts and protects you from pimples and maintains smooth and beautiful skin.