1/4 cup butter, tallow, coconut oil or poultry fat
1/2 lb black olives (kalamata), cut in half
8 chicken thighs, with bones and skin
3 cups onions, sliced thin
30 gloves garlic, minced and smashed almost to a paste
1/2 cup lemon juice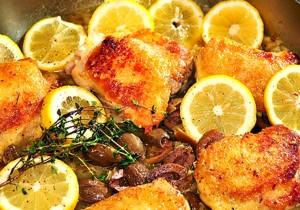 2 extra lemons, thickly sliced (remove seeds with the tip of a knife)
1 1/2 cups chicken stock
A bunch of picked thyme leaves;
Sea salt and freshly ground black pepper to taste
Preparation
Preheat your oven to 350 F.
Melt the first 1/4 cup fat in a large and hot pan and brown the chicken pieces on all sides. It will take about 6 minute's total. Set the chicken aside.
Cook the onions until soft, about 3 minutes, and make sure to scrape all the delicious chicken bits off the pan while doing so.
Add the garlic and cook for about a minute, until fragrant. You can season with salt and pepper at this point.
Add the chicken stock, thyme and lemon juice and return the chicken thighs to the pan, skin side up.
Bring to a simmer and put the pan, covered, in the hot oven for about 20 minutes.
Remove the lid, add the halved olives as well as the lemon slices and bake for another 15 to 20 minutes uncovered.
Serve the chicken with the olive, garlic and lemon sauce as well as with some of the lemon slices.
Enjoy :D!