Papaya is not only a delicious fruit to eat, it also contains abundant health benefits and medicinal value. Papaya can be eaten as a fruit, a smoothie or even a milkshake.   Papaya contains natural fiber, carotene, vitamin C and essential minerals. Papayas also contain enzymes like arginine and carpain.  Arginine is essential for male fertility and carpain is considered to be good for the heart.
Papaya is a fruit high in fiber which lowers cholesterol levels. Papaya contains antioxidants which prevents the cholesterol from oxidizing. When cholesterol in the body gets oxidized, it can lead to heart-attacks. The anti-oxidants in papaya also help in controlling premature aging, which helps to give a young look.
All the parts of the papaya fruit are useful and beneficial. Right from the seeds to the papaya leaves and the flesh of the fruit, all of it has some value. Both the inside and the outside of the fruit can be utilized .Thus no part of the fruit is useless or goes as a waste.
Benefits of Eating Papaya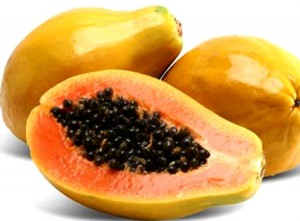 Papaya contains a high amount of potassium and the flesh of papaya is very high in Vitamin A.
Papaya seeds and leaves are useful in treating intestinal worms found in the body.
Papaya helps prevent constipation and also aid indigestion. Papaya contains the protein called papain which is a digestive enzyme that helps in natural digestion process.
Papaya juice helps in alleviating infections of the colon by clearing away the infection, pus and mucus. Regular consumption will help in improving the problem.
The skin of papaya is excellent for treating skin wounds and places that do not heal quickly.
Papaya has anti-inflammatory properties and anti-cancerous properties. The anti-inflammatory properties in papaya will help reduce pain for those suffering from arthritis, edema and osteoporosis.
Papaya is very good for those who frequently suffer from cold, cough or flu because intake of papaya boosts the immune system. The high concentration of Vitamin C and Vitamin A contained in papaya is very beneficial to strengthen the immune system.
Papaya is also very good for the hair and helps in controlling dandruff. Papaya shampoos are good for the hair and are available in many health stores.
Papaya is low in calories and high in nutritive value hence it is an excellent food for those on a diet.
Regularly consuming papaya helps to relieve morning sickness and nausea.
Raw papaya also helps in reducing menstrual irregularities for women. Papaya helps to ease the condition by promoting natural flow of menstruation.
Papaya cleans the stomach and studies have shown that papaya alone eaten for 3 to 4 days has a highly beneficial tonic effect upon the stomach and intestines.