You need:
1 ½ lbs   Wild pink salmon fillet
2 tablespoon   Dijon mustard
2 tablespoon   Fresh thyme, chopped
1 tablespoon   Capers, drained and chopped
2   Green onions, chopped fine
2 teaspoon   Salt
1 teaspoon   Black Pepper
3 tablespoon   Olive oil for frying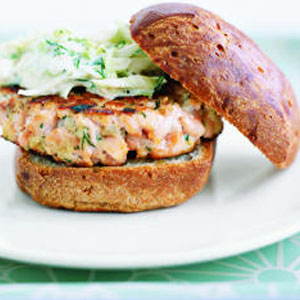 4   English muffins toasted
Preparation
Roughly chop 12 ounces of the wild salmon fillet, then ½ inch cube the remaining 4 oz.
Set aside the 4 ounce and place the 12 ounces into a food processor fitted with the metal blade.
Add the Dijon mustard and the thyme as well as the salt and pepper.
Process on pulse until the salmon is roughly smooth.
Scrape the salmon mix into a bowl and mix with the reserved salmon cubes and green onions.
Form into 4 patties and refrigerate for ½ hour.
Letting the patties rest in the fridge will help the patties stay formed while frying.
In a 10 inch skillet on medium high heat add the olive oil, then add the patties and fry as you would a hamburger, to your liking.
Serve on the muffins or your favorite buns with good quality condiments.
Suggestions: roasted red pepper, Dijon mustard, or quality tartar sauce.
These burgers will keep 3 days in the fridge or freeze for convenient use later
Enjoy :D!