For Strawberry Pudding you need:
1 1/2 cups chopped strawberries
1/2 cup Irish moss gel
1/2 cup young coconut pulp
3 tablespoons liquid sweetener
2 tablespoons lemon juice
4 drops stevia
1 tablespoon melted coconut oil
For Irish Moss Gel you need:
3/4 cup water
2 oz soaked Irish  moss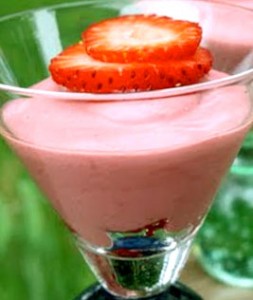 Preparation
For Strawberry Pudding
Blend all ingredients except the oil, until smooth.
Add the oil and blend to incorporate.
Chill the pudding in the fridge for at least 4 hours.
For Irish Moss Gel
Rinse a handful of Irish moss in cold water until any bits of debris have been removed.
Rinse until the water runs clear.
Allow the moss to soak in cold water for 6-12 hours.
Remove the moss from the soak water – do not rinse.
Chop the moss and blend it with the water until it warms up and turns into a gel.
Chill the gel in the fridge for 6-7 days, or use immediately.
When using in recipes where it's already chilled and firm, make sure to pack it into the cup to get a proper measurement.
Enjoy :D!