Mushroom Marinade
1/2 cup Olive Oil
1/3 cup soy sauce, Nama Shoyu, Tamari, etc…
1 tbsp Mirin
1 head Red Cabbage, shredded
1 cup Wakame, soaked in water to rehydrate then drained
3 Carrots, shredded
1/2 – 1 medium jalepeño or habanero pepper, or one Thai chili, minced
2 cups Mushrooms, Shitake and Cremini, sliced thinly and marinated (recipe below)
Sweet Miso Dressing
1/3 cup Yellow (or Light) Miso
1/2 cup Orange Juice, freshly squeezed
1 tbsp Mirin
1 tbsp Raw Honey, or Agave
2 tbsp Sesame oil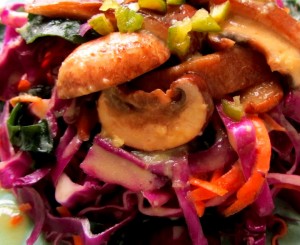 1 small clove Garlic
2 tsp Ginger, minced or grated
2 tbsp soy sauce, Nama Shoyu
Preparation
Mushroom Marinade
Mix ingredients together in a bowl, then add mushrooms.
Stir to coat and let marinate for at least 30 minutes.
To assemble salad
In a large bowl combine the red cabbage, wakame, carrot and minced hot pepper.
Toss with 1/2 cup of the miso dressing, and allow to rest for a few minutes before serving.
Top with marinated mushrooms and a bit more dressing before serving.