1/2 cup plain fat-free yogurt
2 tablespoons light mayonnaise or 2 tablespoons fat-free mayonnaise
2 tablespoons fresh lemon juice
2 teaspoons fresh basil, chopped (or 1/2 tsp dried, although fresh preferred)
1/4 teaspoon dried oregano
salt and pepper (freshly ground tricolor pepper is nice)
2 cups uncooked brown rice macaroni, cooked according to package directions
1 (7 1/2 ounce) wild salmon
1 cup chopped celery (or fennel bulb)
1 red bell pepper, chopped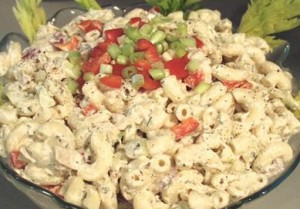 1/4 cup red onion, diced (to taste)
Preparation
Cook the pasta according to package directions; drain and set aside.
In a mixing bowl, combine yogurt, mayonnaise, lemon juice, basil, oregano, salt, and pepper.
In a separate bowl mix remaining ingredients, add it to the first mixture.
Toss to coat pasta.
Transfer to a container, and chill for at least 1 hour before serving.
Before serving, make sure to gently stir it all up again well.
Note: other kinds of pasta can be used in place of macaroni, to make it interesting — small spirals, orzo, penne, etc. Don't be afraid to experiment!