Salmon Balls
1 lb wild salmon, cubed
1 green onion, sliced
1/4 teaspoon fresh rosemary, minced
3 fresh basil leaves, chopped
1/4 cup minced pimiento
1/4 cup dried cranberries (optional)
1 pinch chili pepper flakes
1/4 teaspoon garlic powder
salt and pepper
1 egg, whisked lightly
3 ounces mozzarella cheese, cut into 12 cubes
3/4-1 cup panko, flakes
For Deep Frying
peanut oil, safflower oil, sunflower oil, and canola oil
Optional sauce

1/2 cup mayonnaise
1 green onion, sliced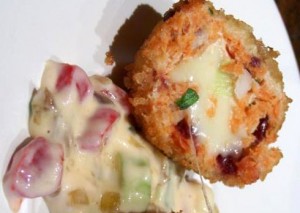 1 tablespoon lemon juice
1/4 cup diced pimento pepper
2 basil leaves, minced
1 garlic, minced
1 tablespoon pickle relish
2 green olives, minced
Preparation
Make Optional Sauce by mixing all ingredients for sauce together, chill till ready to serve.
You can use your favorite dipping sauces.
In a food processor place all salmon ball ingredients except, cheese and panko crumbs.
Pulse 3-4 times till chunky smooth.
Divide the salmon mixture into 12.
Place each 1 section of the mixture in hand and put cube of cheese on the salmon encasing the cheese with the mixture to form a ball.
Repeat with all 12. Roll in panko crumbs.
Heat 2-3 inches of oil in a deep heavy pot to 350-375 degrees.
Place 6 rolls in and cook for 3 minutes. remove to paper towel to drain.
Regulating the heat if necessary to keep that oil temperature between 350 and 375 degrees F.
Fry the remaining 6 and drain on paper towel.
Serve with dipping sauce and enjoy the gooey center.
Don`t overcook!