1 lb wild salmon steak
4 tablespoons sugar
2 inches fresh ginger, minced
2 tablespoons fish sauce
1/4 teaspoon fresh cracked pepper (to taste)
Preparation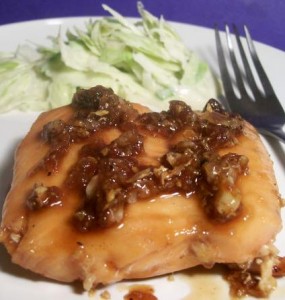 Heat heavy sauce pan (large enough to accommodate  fish without overlapping) on medium high.
Add sugar, melt and caramelize (you want it brown, but not burnt).
Sugar should be brown and very hot.
Add minced ginger (be careful, it may sizzle if there's water in the ginger) and stir for about 15 seconds.
Add fish sauce and fresh cracked pepper. Stir.
Add fish steaks, do not overlap fish to make sure each piece is soaked in the sauce.
Cook on medium heat for about 5 minutes. Do not cover.
The sauce needs to thicken into a light syrup.
If the sauce gets too thick, add a teaspoon of water at a time to thin.
Turn fish over and cook for another 4 minutes or until fish is cooked depending on the thickness of your fish steaks.
Serve immediate with steamed white rice. The sauce is good on the rice.