Spring Rolls
1 lb wild salmon fillet, skinless
1 tablespoon olive oil (optional)
salt and pepper
2 tbsp sesame seeds, toasted
2 cups jicama, cut into 2-inch-long matchsticks
2 cups carrots, cut into 2-inch-long matchsticks
2 cups napa cabbage, cut into thin strips
2 cups fresh bean sprouts
16 round rice paper sheets, 9 inch
pie plate filled with very warm water
Dipping Sauce
1 teaspoon fresh rosemary, thinly sliced
2 teaspoons fresh ginger, finely chopped
2 teaspoons fresh garlic, finely chopped
2 teaspoons green onions, thinly sliced
1/2 cup soy sauce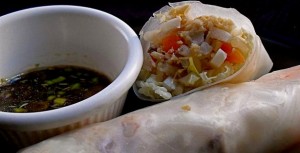 1/4 cup rice vinegar
1 tbsp  hoisin sauce
2 tbsp sesame oil
Preparation
Dipping Sauce:
Mix all sauce ingredients in a bowl. Set aside for the flavors to meld while you are making the spring rolls.
The Spring Rolls:
Cook salmon in olive oil or a nonstick sprayed medium heat pan until cooked through, about 3 minutes a side, depending on the thickness.
Sprinkle with salt and pepper to taste.
Break salmon apart into medium chunks with a fork and let cool while you prepare your other ingredients.
Get your ingredients ready so that they are separate and ready to grab for each roll.
I split each ingredient pile into 4 so I can divide them more evenly between the 16.
Set 1 rice paper sheet in very warm water in a pie plate and let sit for about 15 seconds, or until soft and pliable.
Remove and set on counter or other flat space where you can place the rice paper.
When you remove a sheet, add another one to the hot water while you make a roll, so it will be ready to use for the next one.
You will have to replace the water a few times, as it cools.
Add 1/16th of each of the ingredients vertically on the rice paper, taking up the center half of the sheet.
Fold the top quarter and bottom quarter to meet at the center of the ingredients, overlapping slightly.
Tightly roll the sheet from one side to the other to make a secure spring roll.
The rice paper will automatically stick to itself to "glue" it together. There is a demo on Recipezaar with photos of another way to roll them.
Repeat until you have 16 rolls and place on a plate or baking tray as you go along.
You can make these hours before a party if you wish.
Cover with plastic wrap to store in refrigerator or serve immediately with dipping sauce.