Vegetables
1 garlic clove, crushed
1 red pepper, sliced thinly
250 g Asian mixed vegetables, fresh (My pack came with carrot, cabbage, snow peas and broccoli.)
60 g baby asparagus spears
120 g bean sprouts
2 wild salmon fillets
2 tablespoons peanut oil, divided use
1 garlic clove, crushed (up this to 2 if you do not accompany with the veg.)
3 tablespoons orange marmalade (not thick cut)
3 tablespoons ketjap manis (please use this and not soy it is sweeter)
2 red chilies, finely chopped (add as many or few seeds according to personal taste)
2 teaspoons grated fresh ginger
3 tablespoons rice wine vinegar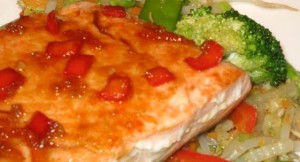 2 teaspoons sugar
Preparation
Add a little peanut oil to a pan, about 1/2 Tablespoon, add chili, ginger and garlic, cook for a minute, add marmalade, manis, vinegar and sugar, stir to heat through.
Add another half tablespoon oil to another pan, cook fish skin side down first, to crisp skin, turn and cook salmon until pink, and flakes easily and is cooked as desired.
Heat remaining tablespoon of peanut oil in a wok add pepper and garlic, stir fry 1 minute, turn heat down, add Asian veg pack, asparagus and bean sprouts, stir fry until veg are tender.
Note: If wok is too hot veg will burn, make sure it has cooled down a bit add a little soy and water if you need some liquid, but keep it very minimal.
Place vegetables on a plate top with salmon and drizzle with sauce.