2 tablespoons butter
2 tablespoons olive oil
1 tablespoon minced garlic
1/2 medium onion, chopped
1 bunch swiss chard, stems and center ribs cut out and chopped together, leaves coarsely torn separately
1/2 cup dry white wine
1 tablespoon fresh lemon juice
2 tablespoons freshly grated parmesan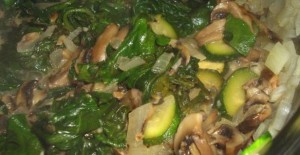 Preparation
Melt butter and olive oil in a large skillet over medium heat.
Stir in the garlic an onion, cook 30-60 seconds.
Add chard stems and white wine. Simmer until the stems begin to soften, between 5-7 minutes.
Stir in chard leaves until they wilt (1-2 minutes).
Stir in lemon juice, Parmesan and season to taste with salt.