Shrimp is very nutritious  and it's simple to prepare. On the nutrition side, they are a good source of vitamin B12, iron and selenium.
For Shrimp and Marinade You Need
2 tbsp paleo cooking fat like coconut oil or clarified butter
2 tbsp fresh lime juice
2 tsp lime zest
1 tsp ground cumin
2 tbsp ground coriander
20-24 large shrimp, peeled and deveined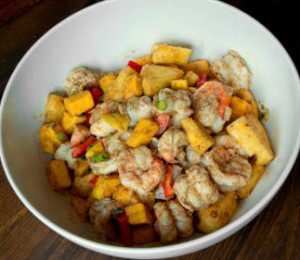 2 cloves garlic, mince
For Fruit Salsa You Need
½ red bell pepper, chopped
½ mangos, cubed
¾ cup pineapple, cubed
3 tbsp ground cumin
2 green onions, chopped
1 tsp lime zest
1 tbsp lime juice
Sea salt and freshly ground black pepper to taste
Preparation
In a medium sized bowl, combine all the ingredients that make up the marinade. Toss in the shrimp and make sure all of the shrimp is evenly coated.
Allow it to sit for approximately 15 minutes.
In a separate large bowl, combine the lime juice, lime zest and cumin. Once thoroughly mixed, add the green onions, pineapple, mango and bell pepper. Mix until the seasoning is evenly distributed.
Heat up a large skillet over a medium-high heat. Add the cooking fat and coat the pan. Place the shrimp in (you may have to cook in separate batches). Allow the shrimp to cook on each side for approximately 4 minutes total, until just cooked.
Try not to overcook them as they easily become rubbery.
Once the shrimp is all cooked, add it to the fruit salsa and combine well. Season with salt and pepper to taste.
Enjoy :D!