Here scallops are a great option as they are quick and easy to prepare. They aren't a very popular source of protein, but it is a good source of nutrition's and blends very well with many flavors. They are a good source of vitamin B12, magnesium, zinc, selenium and phosphorus, many of which are lacking in many people's diet, even some people on a healthy paleo diet.
2 tsp cayenne pepper
2 tsp freshly ground black pepper
1 tsp sea salt
1 lb small sea or bay scallops
3 tbsp lemon juice (about 1.5 lemons)
1 tbsp paleo mayonnaise, optional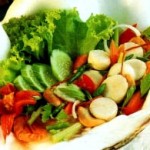 Pinch of cayenne pepper
1 tsp Dijon or homemade mustard
1 clove garlic, minced
1/2 cup olive oil
2 big handfuls of mixed greens
1 red bell pepper seeded and cut into strips
1 avocado, cubed
Sea salt and freshly ground black pepper to taste
3 tbsp cooking fat
Preparation
Get your chopping done first and save the scallops for last to ensure they are still warm upon serving.
Combine mixed greens, peppers and avocado in a large bowl and set aside.
In a small bowl, prepare the vinaigrette by whisking together the lemon juice, mayonnaise, mustard, cayenne and salt and pepper to taste. Once combined, slowly mix in the olive oil.
In a bowl large enough to hold the scallops, mix the cayenne, salt and pepper.
Rinse the scallops and lightly pat dry.
Add the scallops to the mixture prepared in step 4 and ensure that they are evenly coated.
Over medium heat, heat a skillet and melt the cooking fat in preparation for searing the scallops. Your skillet must be hot prior to adding the scallops; however, do not allow the cooking fat to burn.
Place the scallops in the pan and cook for about two minutes per side, until they are opaque white and just cooked through.
Add the scallops to the bowl of mixed greens and veggies, and add the dressing over top.
Serve while the scallops are still warm.
Enjoy :D!