Health benefits of spinach include good eyesight, blood pressure, strengthens muscles, prevention of age-related macula degeneration (AMD), cataract, atherosclerosis and heart attack, neurological benefits, bone mineralization, anti-ulcerative, anti-cancerous property, skin protection, foetus development, protein rich for infant's proper growth.
Benefits of Eating Spinach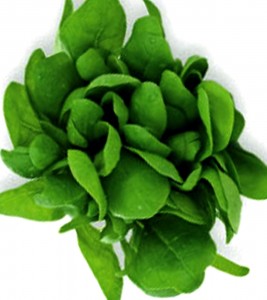 Prevent Cancer
Flavonoids — a phytonutrient with anti-cancer properties abundant in spinach — have been shown to slow down cell division in human stomach and skin cancer cells. Furthermore, spinach has shown significant protection against the occurrence of aggressive prostate cancer.
Good  for Eyesight
Spinach is a rich source of beta carotene, lutein and xanthene, all of which are beneficial for eyesight. Beta carotene is supplied to the eyes by cooked spinach. It can prevent one from vitamin A deficiency disease, itching eyes, eye ulcers and dry eyes.
Diet
One cup of spinach has nearly 20% of the RDA of dietary fiber, which aids in digestion, prevents constipation, maintains low blood sugar, and curbs overeating.
Anti-Inflammatory
Neoxanthin and violaxanthin are two anti-inflammatory epoxyxanthophylls that play an important role in regulation of inflammation and are present in unusual amounts in spinach.
Neurological Benefits
Several components of spinach like potassium, folate, and various antioxidants are known to provide neurological benefits.
Antioxidants
The vitamin C, vitamin E, beta-carotene, manganese, zinc and selenium present in spinach all serve as powerful antioxidants that combat the onset of osteoporosis, atherosclerosis and high blood pressure.
Blood Pressure
By inhibiting the angiotensin I-converting enzyme, peptides within spinach have been shown to effectively lower blood pressure.
Bones
One cup of boiled spinach provides over 1000% of the RDA of vitamin K that can prevent excess activation of osteoclasts (the cells that break down bones), as well as promote the synthesis of osteocalcin, the protein that is essential for maintaining the strength and density of our bones.
Calcification
Vitamin K is a crucial component of the process called carboxylation, which produces the matrix Gla protein that directly prevents calcium from forming in tissue. Eating one cup of spinach contributes to this process that fights atherosclerosis, cardiovascular disease and stroke.

Immunity
One cup of spinach contains over 337% of the RDA of vitamin A that not only protects and strengthens "entry points" into the human body, such as mucous membranes, respiratory, urinary and intestinal tracts, but is also a key component of lymphocytes (or white blood cells) that fight infection.
Skin Protection
Different phytonutrients and pigments have been shown to protect the skin from harmful rays of sun including the UV rays. These not only protect but also repair the damaged genes to some extent thereby preventing skin cancer in long run.
Brain and Nervous Function
The abundance of vitamin K in spinach contributes greatly to a healthy nervous system and brain function by providing an essential part for the synthesis of sphingolipids, the crucial fat that makes up the Myelin sheath around our nerves.
Fetus Development:
Folate found in spinach is needed by the growing fetus for proper development of new nervous system. Defects like cleft palate or spina bifida may occur due to deficiency of folate. Vitamin A offered by spinach is advised to be consumed in more quantities by the mother. Vitamin A is required in lung development of fetus as well as during breast feeding.