For Pasta you need:
1 large zucchini, peeled or spiralized into noodles
pinch of salt
1/2 cup frozen peas
1/2 cup asparagus (I bought them fresh, sliced them and then froze them)
For Sauce  you need:
1 avocado
6 tbsp water
1 tbsp lemon juice
zest of 1 lemon
1/2 tsp salt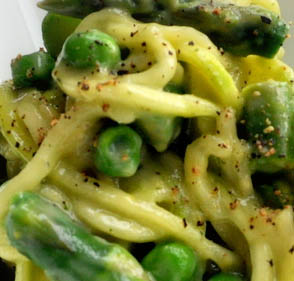 1/4 tsp ground pepper
1 TBSP fresh thyme
Preparation
Peel the zucchini.
Using a vegetable peeler (the results are more fettuccine-like noodles) or a spiralizer prepare a large bowl of zucchini noodles.
Sprinkle the zucchini noodles with salt and let them sit
In a blender combine the sauce ingredients and blend until smooth.
Remove the asparagus and peas from the freezer and place them in a large bowl.
Boil a kettle of water.
Pour the hot water over the asparagus and peas and let them sit for 1-2 minutes.
Drain the water and add the vegetables to the zucchini noodles.
Pour the sauce over the noodles and toss to coat.
Serve and enjoy :D!