1 cup packed young coconut pulp
Seeds of 1 vanilla bean
2 tablespoons coconut nectar
5 drops stevia
1 teaspoon pure vanilla extract
Pinch of salt
2-4 drops peppermint essential oil (or mint extract, to taste)
2 tablespoons melted coconut oil
1/2 cup packed fresh mint leaves
1/2 cup coconut water
1/4 cup irish moss gel*
For Irish Moss Gel you Need
1 cup water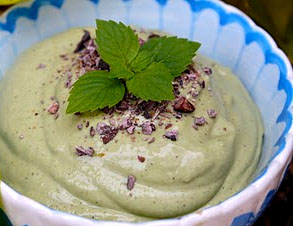 2 oz soaked irish moss
Preparation
Blend all but the coconut oil, until smooth.
Add the oil and blend to incorporate.
Chill the pudding for a few hours before eating.
Irish Moss Gel
Rinse a handful of irish moss in cold water until any bits of debris have been removed.
Keep rinsing until the water runs clear.
Allow the moss to soak in cold water for 6-12 hours.
Chop the moss and blend it with water until it warms up and turns into a gel.
Chill the gel in the fridge for 5-7 days, or use immediately.