You need:
4 salmon fillets
Salt and pepper to taste
1 tbs onion powder
1 tbs crushed red pepper flakes
3 tbs white balsamic vinegar
2 tbs white sugar
2 tbs chopped green onions
2 tbs chopped cilantro
1/4 cup olive oil
1/4 cup fresh lemon juice
4 cloves garlic, minced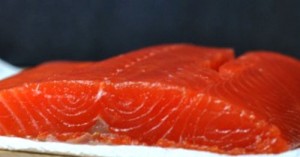 Preparation
Season fillets with salt and pepper, onion powder, and red pepper flakes.
Set aside in a baking dish.
In a medium bowl, mix together olive oil, lemon juice, garlic, balsamic vinegar, sugar, green onions, and cilantro.
Pour marinade over salmon; cover, and refrigerate overnight, or at least 6 hours.
Preheat oven to 450 degrees F (230 degrees C).
Arrange salmon on a broiling sheet.
Place in a preheated oven, and bake for 5 minutes.
Increase heat to 500 degrees F (260 degrees C), turn fillets, and broil 5 minutes more.
Serve and enjoy: D!