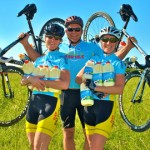 4 female endurance cyclists who averaged the age of 50 set a world record this past June for cycling from the Pacific to the Atlantic in 6 days, 11hrs, and 34 minutes. The Raw Cats, as they called themselves,  averaged a speed of 19.22 MPH racing 24 hrs around the clock taking turns.
What gave them the nutritional edge to beat the record? refueling on Raw Milk.
Their main supporter: Organic Pasteurs who has fought for healthy natural food from healthy animals and natural environments. They helped spread the word and give information on Raw Milk as they travelled across country.
They hope to educate consumers about high quality raw dairy products and giving athletes something new to look at!