Child obesity Must Stop! We hope this is a start to progress in fighting Childhood obesity. I support you in the cause 100%
President Barack Obama signed a sweeping overhaul of child nutrition standards Monday, enacting a law meant to encourage better eating habits in part by giving the federal government more au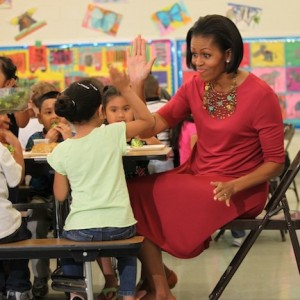 thority to set standards for food sold in vending machines and elsewhere on school grounds.
I'm sure this will help. though if you allow the government or anyone other than you as a parent provide nutrition for your child than you are doing a disservice to you and your children. Let's face it it's not the governments fault, it's not the school fault for finding and contracting with the lowest cost and typically lowest quality food, it's not the vending machine's fault for putting junk food in vending machines. yes it's our fault for allowing our kids to eat garbage food. We are the problem when it comes to obesity. We choose to eat poor quality foods. We set the presidence. Change your life by setting an example for your children. If you eat garbage and tell your kids to eat vegtiables well your not going to be taken too seriously by your children. Practice what you preach.
Yes, I agree it's the governments fault for allowing certain food come to market though i can also blame them for oil prices, pollution and many other things. But really it's my fault if I want to make a difference and not pollute the earth then I don't have to drive. Or I can buy an alternative vehicale, ride a bike, commute. The government like any business benefits the people who scratch there back the most. If I'm a huge food company with millions/billions of dollars I will get what I want because I have influence with other business, governmnet, etc. I don't blame them I believe in capitalism and the ability to make money and move up in the world. Though It's my choice if I want to buy there food and help them with their cause.  Remember you have influence too. Maybe not the type that can get you on Larry King live, or Oprah, or the ability to have multi million dollar advertising budgets. Though you have influence to make choices with your life. You can choice to be healthy. You can choice what you eat, you can choice what job you have or don't have. Remember it's up to us to save the planet, eat healthy, stop bad politics, and so on. The power is with you! Me, and everyone else. 1 person does make a difference, 1 person can effect everyone. 1 person started all those multimillion dollar companies. So let's all be that 1 person that makes the choices to better ourselves, our health, our economey, and our life.
I hope this bill gets the right people to educate and provide the proper information when it comes to nutrition.  The fact that they are promoting veggies is huge. Progress is great so i'm excited to see the improvements especially when they have spent that type of money for change.
I do hope and support a bill to make our kids and ourselves healthier. I hope this bill will cause change.
Please read the bill below:

Among other things, the $4.5 billion measure provides more money to poor areas to subsidize free meals and requires schools to abide by health guidelines drafted by the U.S. Department of Agriculture. To help offset the higher cost of including more fruits and vegetables, the bill increases the reimbursement rate for school lunches.
The bill is about "giving our kids the healthy futures they deserve," the president said during a bill signing ceremony at a Washington elementary school. "Right now across the country too many kids don't have access to school meals."
Even when they do, he added, too often the meals aren't sufficiently nutritious. As a result, he said, one out of every three children in America is overweight or obese.
Some Democrats had objected to the bill because it is funded in part by stripping $2.2 billion from the federal food stamp program. Congress also voted over the summer to take money from the program to fund legislation sending money to cash-strapped states to avoid teacher layoffs.
The cuts largely negate a spending increase provided to the food stamp program by the 2009 economic stimulus plan. Administration officials reportedly have promised anxious liberals that they will work to find ways to restore the higher funding levels.
The measure has been a top priority for first lady Michelle Obama, who has championed it as part of her "Let's Move" initiative to combat child obesity in the United States.
"Had I not been able to get this bill passed, I would be sleeping on the couch," the president joked shortly before signing the measure into law.
"We won't go into that," the first lady said. "Let's just say it got done. Don't have to go down that road."